Necklaces have many and varied sizes and the visual impact varies depending on the body structure of each woman.
Some prefer the chokers, others prefer the long or extra-long ones. And as the popular saying goes: tastes are not to be discussed! Every woman has the right to her preferences! 🙂 
---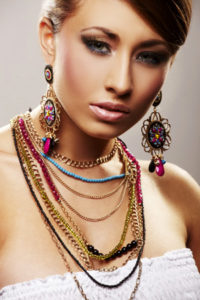 When we choose a necklace we do not always have a concrete notion of how it it will look on our body. Where it ends, whether too high for our taste or if too low …
Because of all these doubts we decided to share with you some very useful information that can help you deciding which necklace will look better on your look.
You can use these tips on the length of the necklaces to better understand the approximate position that they will look on your body.
After all, the tips to improve the look are always welcome, don't you think girls?
---
First of all, what are the main types of necklaces you must be asking?
---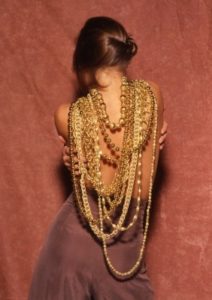 Generally we have 5 types of necklaces::
– The chokers
– The statement necklaces
– The chain necklaces
– The long necklaces
– Extra-long necklaces.
---
And if we want to think in terms of sizes, what lengths do these types of necklaces have, and where do they end up on you?
---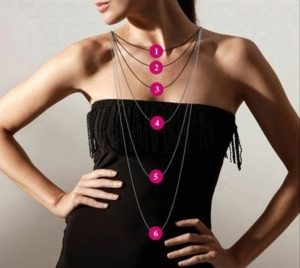 Approximate measures…
The necklaces of 30's cm are near the neck
The 40's cm necklaces are slightly below the neck
The 50's cm necklaces are a few inches below the level of the neck
The necklaces of 60's cm are approximately in the middle of the bust
75's cm necklaces are below the bust
And in an even more practical and detailed way … and because a picture is worth more than a thousand words…
---
That is, for the avoidance of doubt, what are the exact measures of the several types of necklaces?
---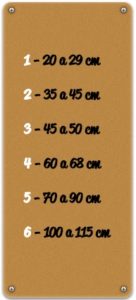 More specifically…
And so, with these tips you can get an idea of how it will look like on you…
It's good to know these things when it comes to deciding!
If our tips and information please you and are useful to you, subscribe to our newsletter for special clients, our VIP Club. Our special customers are the first to know all of these tips!
See you!…
JAFY's Jewelry
jafysfashion@gmail.com
www.jafys.com
www.facebook.com/JafysJewelry
www.instagram.com/JafysJewelry
www.pinterest.com/Jafysfashion
www.twitter.com/JafysJewelry